A new project is out: XBox Device Status.
For some reason, Microsoft haven't provided a way to display the battery levels of any connected Xbox pads on Windows PCs. There is a Windows Store app specifically for configuring the Xbox Elite Controller (US version here) that sort of shows it, but it's horrendous and not really designed for that.
In steps XBox Device Status. It's an application (by me, of course) specifically designed for showing the battery levels of any attached Xbox pads and headsets. Version 1.01 will add support for events.
There was quite a delay in releasing XBDS as I ended-up making numerous changes to my Metro library, changing existing controls and adding a new one. This library is why XBDS looks the way it does; it's my implementation of how Metro should've looked before even Microsoft themselves released their original version all those years ago. A form with large empty areas with a mid-grey background is just terrible, regardless of what idiocy you use to try and justify the design decision.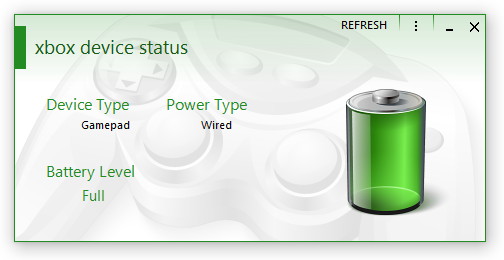 The Free Edition does what most people want, showing the battery level of a connected controller. The Home/Enterprise Edition provides extra features such as headset levels, system tray support, and the aforementioned events. More Home/Enterprise features will be continually added.
Additional screenshots are available here.